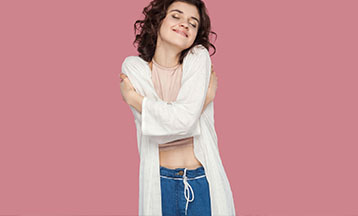 If there is one sentence that should stay with you long after you're done with this article, let it be this one - 'The desire to change how one looks does not mean we love our body any less'
In an environment that has convoluted the relationship between body positivity and body contouring, it becomes imperative that the nuance behind loving one's body and desiring to change some part of it is understood.
Our body has been the one constant throughout our lives, ever dependable and reliable, a tool that has seen us through sickness and setback and celebrated with us for every good day and success, body positivity is accepting and adulating this body for all of that.
Trying to change some part of this tool that we have, trying to look better is a choice that everyone of us enjoys, it is up to us to decide if we want it. To be wholly and completely satisfied with the exact way we look is a state of utopia that few of us have the privilege of attaining. For the rest of us, it is fortunate that we live in a time when we can actively take steps towards contouring our bodies to look better.
There are numerous methods and techniques which are available today to aid us in doing exactly that and they can all be split under two broad categories – invasive (requiring surgery) or non-invasive (not requiring surgery). Non-invasive methods of body contouring have gained popularity and are often requested as they are simple and, by large, painless.
Fat freezing is a non-invasive1,2 and non-surgical method to lose stubborn fat and one of the popular techniques of fat freezing is CoolSculpting®. A simple and painless 35-minute procedure5,6,7 gives wonderful results. CoolSculpting® can be used to enhance the way we look by reducing fat from the abdomen, the arms, inner and outer thighs, and the flanks4. In addition to these areas, CoolSculpting® can also address front and back bra fat and the little pouch of stubborn fat above the knees.
CoolSculpting ® involves no pain, no downtime, no needles and there are no life-threatening side effects to be worried about. It is, what has been popularly known as, a 'lunch time procedure'. Initial results can be seen in 2 – 3 weeks and in about 3 months, one can admire the results which are permanent4,5.
This is not to say that CoolSculpting® can substitute working out at the gym or leading a healthy lifestyle or that you don't love your body. It only aids us in loving our body for what it has done for us and for the way it looks as well. In the wise words of Shuri, from the Marvel Cinematic Universe, – 'Just because something works doesn't mean it can't be improved.' Give it a chance, and appreciate your body in a completely new way.
References:
1. Kilmer SL. Lasers Surg Med 2017; 49:63-8;
2. Kilmer SL, et al. Lasers Surg Med 2016; 48:3-13;
3. Zelickson B, et al. Dermatol Surg 2009; 35:1462-70;
4. Klein KB, et al. Lasers Surg Med 2009;
5. Allergan. Data on File. INT/0983/2017. CoolSculpting treatment cycles. November 2017;
6. Allergan. Data on File. INT/0071/2018. CoolSculpting publications. February 2018:
7. Allergan. CoolSculpting system user manual. BRZ-101-TUM-EN4-H.2016
8. ASDS. Consumer survey on cosmetic dermatologic procedures 2016.

Body Positivity – Can We Love Our Body and Change It Too?